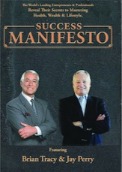 Success Manifesto
I am very excited about my project, Success Manifesto, which I have co-authored with the one & only Brian Tracy!
You can secure your copy from Amazon.com by clicking here.
In the meantime, keep following me on Facebook, Twitter & LinkedIn for more news and developments. You can also fill in the contact info sheet if you are not on my email list so you can receive the free update emails.